enhance your social media with following sites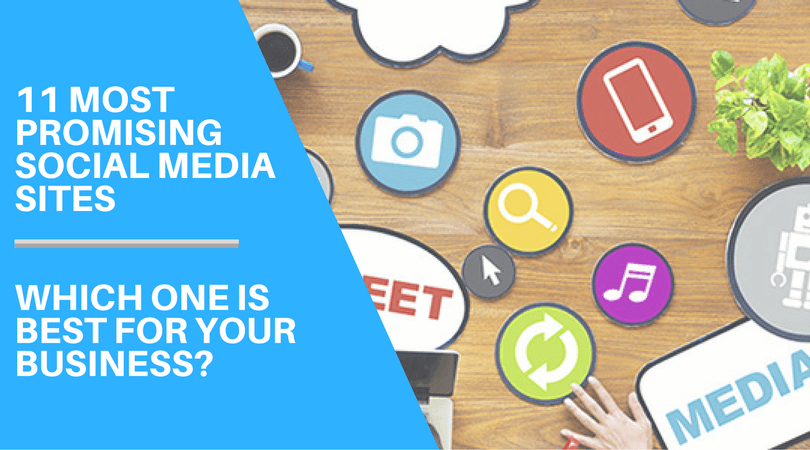 When starting out on social media, most businesses face the conundrum of choosing the right platform.
For a small business, it's not possible to maintain a business page on multiple platforms. On the other hand, you cannot create a business profile on all these sites and leave it because neglecting your social media profiles can seriously hurt your business.
So what can you do about it?
It's simple. You need to choose 2 – 3 platforms after careful deliberation and stick with them.
Choosing the best platform for your Business:
The best platform will differ from one business to another because different social media websites are good for different reasons and different target audiences.
Most businesses start from 2 – 3 platforms and their first choice is usually the Facebook and Twitter.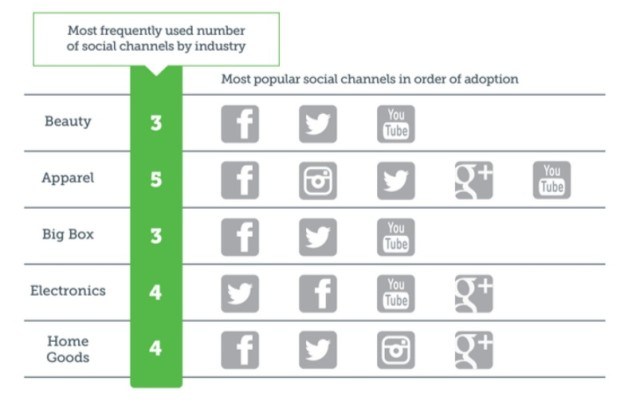 Source: Adweek
As you can see, Facebook and Twitter are the most commonly used channels while Instagram is not far behind.
It makes perfect sense because these two are unarguably the biggest and the most popular social media platforms. Your social media marketing plan is not complete without an active presence on Facebook and Twitter.
However, totally ignoring all the other platforms, especially the ones that are becoming more and more popular in your target market is not a wise option.
In another post, we've talked about a business that took advantage of Snapchat's popularity among teens and grew their startup into a $10m business.
So let's have a look at 11 most promising social media channels and their pros and cons to help you choose the right ones for your business.
1. Facebook:
Facebook is to Social Media what Google is to search.
If there's one platform that needs to be a part of every business's social media strategy, it has to be the Facebook.
More than 40 million small businesses are already on Facebook. Frankly, having a regularly updated Facebook page is as important as having a website.
What makes it special?
As of writing this post, Facebook has more than 1.7 billion monthly active users.
Just to put things into perspective, the total number of Internet users is 3.5 billion which means that Facebook can help you reach 50% of people who are using the Internet.
Not to forget the 1b+ users of Whatsapp and 400m+ users of Instagram (both owned by Facebook) and no other network can come close to the size and reach of this platform.
Businesses that need to be on Facebook:
Local businesses
Online stores
Beauty
Fashion
Apparel
Sports
Fitness
Food
Beverages
Travel
Hospitality
Automotive & Car related Businesses
Real Estate
Everything else
2. Twitter:
Twitter used to be the unchallenged runner-up to Facebook in the race of social media arena but now other platforms are quickly catching up. In fact, platforms like Snapchat or Instagram have surpassed Twitter as far as the user base or engagement rate is concerned.
But that doesn't mean you can ignore Twitter.
What makes it special?
Twitter has 1.2 billion registered users. Though just 310+ million users are active but it's still one of the biggest social media websites out there. Lack of activity or engagement doesn't mean people have stopped using the website. More than
More than 500m people visit Twitter every month without logging in. 66% of all US companies are using Twitter for marketing purpose.
It's a much talked about platform in mainstream media. Every once in awhile, you will see a tweet from a celebrity or public figure making the news. Twitter has also launched many new features and advertising solutions for businesses and it has acquired Periscope that's doing quite well with more than 10m registered users.
Businesses that need to be on Twitter:
Service based businesses
Advertising
Fashion
News & Media
Publishing
Retail
Sports
Travel
Transportation
Health
Fitness
3. YouTube:
For years, text and photos have ruled the World Wide Web but now it's time for videos to take the lead. Not that videos will surpass text anytime soon but they are already producing better results as far as engagement and conversion are concerned.
US adults spend more than 5 hours consuming video content on a daily basis. Studies suggest that videos can improve your conversion rate, engagement, and sales.
What makes it special?
When you are looking to start with video marketing, Youtube should be your first choice. The biggest video sharing platform has more than 1 billion users.
Did you know that YouTube has better reach than any cable network in the US when you are targeting people from 18 – 49 years of age.
As a small business, you can also earn good side income by producing good quality videos on a regular basis. Felix Kjellberg, known as PewDiePie on Youtube, earned $12 million last year and he is just one of many highly paid stars on Youtube.
Businesses that need to be on YouTube:
Media & Entertainment
Music Artists & Bands
Gaming Business
Real Estate
Automotive
Business Consulting Services
Fashion
Electronics
Home improvement
Food & Beverages
Travel
Tourism
4. Instagram
Instagram made its mark by reaching 1 million users within just two months of launching and became the iPhone App of the year in only its second year. Soon after, it was acquired by Facebook and it hasn't looked back since. It's basically a photo sharing platform that gets more than
Soon after, it was acquired by Facebook and hasn't looked back ever since. It's basically a photo sharing platform that gets more than 95 million photos and videos on a daily basis.
What makes it special?
Instagram is one of the fastest growing social networks with more than 500 million registered users and more than 300 million who use it on a daily basis.
If you are trying to target and reach out to teens under 35 years of age, Instagram has got to be an important part of your marketing mix, since more than 90% of Instagram users are younger than 35 years old.
Businesses that need to be on Instagram:
Beauty
Cosmetics
Photographers
Fashion artists
Entertainment
Recreation
Travel
Transportation
Music
5. LinkedIn:
People go to social media websites for fun but it's the opposite for LinkedIn.
LinkedIn is a social network for professionals and companies looking for growth as a business or professional.
The only drawback is the lack of engagement. Only 25% of its registered members use it regularly but they are working to improve the engagement rate. One example is the recently introduced 30-second videos from LinkedIn influencers.
What makes it special?
LinkedIn is the biggest professional network with more than 400 million users. The majority of its active users come from US, Canada, India, UK, and Brazil.
It has recently been acquired by Microsoft so we can expect new features and opportunities for businesses.
Businesses that need to be on LinkedIn:
B2B businesses
SaaS
Legal Services
Accounting
Employment
Advertising
Banks
Financial Services
Automotive
Computer
Technology
Travel
Tourism
6. Snapchat:
Instagram reached 1 million users in just two months but Picaboo could manage just 127 in this time.
The app was relaunched with a new name i.e. Snapchat and the idea of the "self-destructing pictures and videos messages" started to pick up.
Even Facebook has tried to launch a similar app or two e.g. Poke or Slingshot.
What makes it special?
Snapchat might not be on top of the list as far as the user base is concerned, however, it gives all other networks a run for their money when it comes to the time people spend on these networks.
Only Facebook has a better engagement rate than Snapchat and that says quite a lot.
It's also the fastest growing social network when it comes to millennials.
Businesses that need to be on Snapchat:
Fashion
Beauty
Video Games
Apps
Cosmetics
Retail
Electronics
Recreation
Fast Food
Music
7. Pinterest
Pinterest allows users to post, share, and discover images and videos. These images are known as pins and the pins collections are known as pinboards. It's different than Instagram or Flickr because people usually share or search for ideas and inspirations instead of sharing their personal photographs. Food, fitness, travel, humour, quotes, are some of the most popular categories.
What makes it special?
Pinterest has more than 110 million monthly active users and a big majority of these users are women aged 34 – 55. They come to Pinterest for ideas and decide what to buy which makes it a perfect platform for marketing.
Good thing is that the half-life of a pin is much longer than a tweet or Facebook post, which means, your content can be discovered and repinned for a long time.
As a business, you can use it by sharing tutorials, guides, and DIY pins.
Businesses that need to be on Pinterest:
Online stores
Food
Beauty
Cosmetics
Home Decor
Kids & baby products
Home and kitchen appliances
Electronics
Retail
HealthFitness
Fitness
8. Google Plus
After not so successful attempts to enter the social media world (hint: Orkut, Buzz, Wave) Google finally came up with a moderately successful Google Plus. Moderate only by Google standards because it has more than 300 million users, which is impressive by any other standard.
What makes it special?
In case you don't already know, Google search results are now personalized. Connecting with your target audience on Google Plus means that your content stands a much better chance of appearing on top of their search results.
Getting positive reviews and +1s can also help with your rankings in local search results. Google Plus posts are indexed by Google and they can rank on their own.
The Hangout-on-air feature can take the connectivity to a different level.
Businesses that need to be on Google Plus:
Information
Education
B2B Businesses
Local Businesses
Telecommunications
Tourism
Travel
Fashion
Fitness
Publishing
Retail
9. Tumblr:
Tumblr is known for it's informal (AKA crazy) style of micro-blogging. You can engage your target audience with short blog posts, images, Gifs, and audio clips but you will have to unleash your creative side.
What makes it special?
Tumblr has an impressive 550 million monthly active users and 69% of them are millennials which make it a great place for businesses targeting the young adults. You can reach out to them through sponsored posts using a CPE (Cost Per Engagement) or CPM (Cost per Thousand) impressions.
Businesses that need to be on Tumblr:
Food & Beverage
Automobiles
Education
Fashion & Beauty
Computer & Mobile
Restaurant
Video Games
Web Services
Music & Entertainment
Information Technology
Sports
Fitness
10. Vine
The video is not the next big thing. It's already huge.
You can tell that it's the hottest item for social media when you know that Facebook is picking Youtube and Vine celebrities by paying as much as $24,000 per video to produce videos for the Facebook live streaming platform.
Vine is owned by Twitter and it's facing similar challenges. However, a community of 200 million monthly active users is something you cannot ignore.
What makes it special?
When launched, Vine quickly became the fastest growing social media app, growing quicker than Whatsapp or Instagram at that time.
It has slowed down but it's still one of the biggest platforms to try video marketing. More than a billion video loops are played on a daily basis. Lately, there's news of Vine top creators fleeing the platform but Vine is trying to make amends by introducing features like 140-second videos and offering monetizing opportunities.
Businesses that need to be on Vine:
Music artists
Media outlets
Comedians
Fitness
Coaches
Fashion
Advertising
Travel
Entertainment
11. Whatsapp
Whatsapp needs no introduction.
It's one of the most popular instant messaging apps. You can gauge the widespread use by the fact that Whatsapp combined with Facebook messenger get 3 times more messages than the SMS.
Users can create groups, which is a widely used feature, giving it the element of the social network.
What makes it special?
WhatsApp users are close to reaching 1 billion.
Currently, there's no option for businesses to use it for promotion, except that you can share your WhatsApp number and let customers post queries and inquire about your products or services.
However, WhatsApp recently announced that they will start inviting businesses and trying different ways of charging them. In other words, they will be offering different tools and solutions for marketing purpose.
So there you have it.
A list of top social media sites that you can use for your business. With a new feature or advertising solution being introduced on a daily basis, it's an exciting time to be on social media.