How to setup a twitter account for small businesses
Some time ago, Twitter used to be the second biggest Social Media platform but now websites or apps like Instagram or WhatsApp have taken its place.
Does that mean Small businesses can ignore Twitter and focus entirely on Facebook or Instagram?
No, Absolutely Not.
Twitter should be on top of your priority list when it comes to Social Media marketing (second only to Facebook).
Why?
Twitter has more than 310 million users with more than 1B unique monthly visits to the website.
Millions of tweets are posted on Twitter on a daily basis and surely, some of them must be coming from your target customers.
If you can set up a Twitter account and use it to monitor and engage your target customers, you will get a host of benefits.
For example:
Twitter is probably the best platform to get in touch with bloggers or influencers in your niche
You will get more Exposure
You'll know what your target customers are talking about?
Know what's hot and what's trending in your target location or niche
Twitter organic reach is probably the best among all social networks
Twitter Ads are fairly new and underused, so you can get a good ROI
In short, you are leaving money on the table if Twitter is not part of your Social Media plan.
The best part is, it doesn't take a lot of time.
For maximum results at minimum effort, use a tool like TweetDeck to monitor relevant tweets or Hashtags.
Setting up an account and using Twitter is very simple.
You just need to choose a username, profile picture, bio, and a header image, and that's all. However, you need to keep the following points in mind while creating a business account.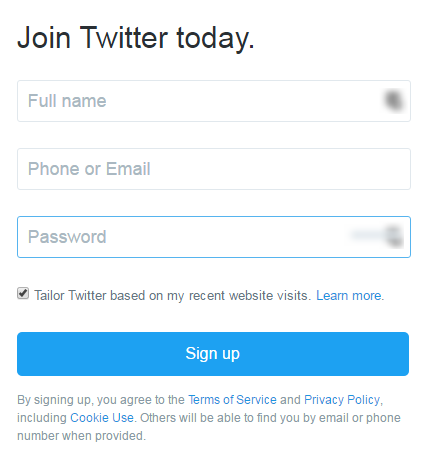 Once you've entered your email and password, Twitter will ask for your interest (to come up with a tailor made feed and account suggestions).

Choose the one that is most relevant to your business and click on Continue.
Twitter will suggest some accounts depending on your location and chosen interests that you can follow.
Choose a Name & Username:
Your Twitter profile will have your business name and a user name that appears under the name. The username will be part of your profile's URL and it can't be longer than 15 characters.
Use your business name as username. You can change it later but it's better to get it right the first time. If your business name is too long, use the abbreviation.
You may consider using the main keyword, product, or service as your business name. It will improve your chances of getting found in search results.

Profile Photo:
In addition to your profile page, the Profile photo will appear in all of your tweets or Direct Messages.
Use your business logo in the profile picture. Don't try to stuff your business name or description, unless it's part of your logo.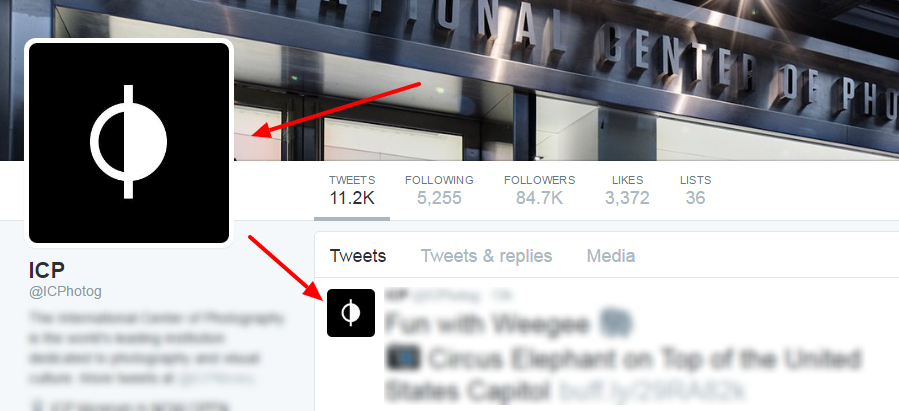 Twitter Bio:
It's time to start practicing the art of conveying your message in just 280 characters.
For Bio, you will get 160 characters so you need to describe your business in a clear and concise manner. There's no space for hyperbole or promotional language.
It's a good idea to include a call to action in your bio, telling users what they will get from following your account.

You can also include your location and of course, a website link.
Use a unique link with URL parameters so you can see if you are getting any visitors from your Twitter's profile.
Header Image:
Header Image is your best chance of grabbing the attention of your target customers. There are many businesses who use the default or single color background.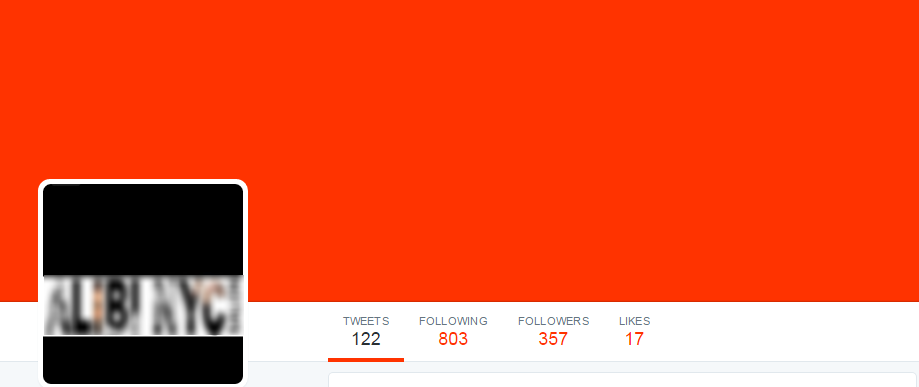 While it doesn't look bad, you are wasting the space that could be better used to showcase your business, products, or outlet.
Your profile photo will stay the same, but you can change your Header Image from time to time.
Theme Color:
There's an option to change the theme color from the default blue to any other color.
Change the theme color to match your business logo or website colors.
Theme color will be used for all buttons and links on your profile.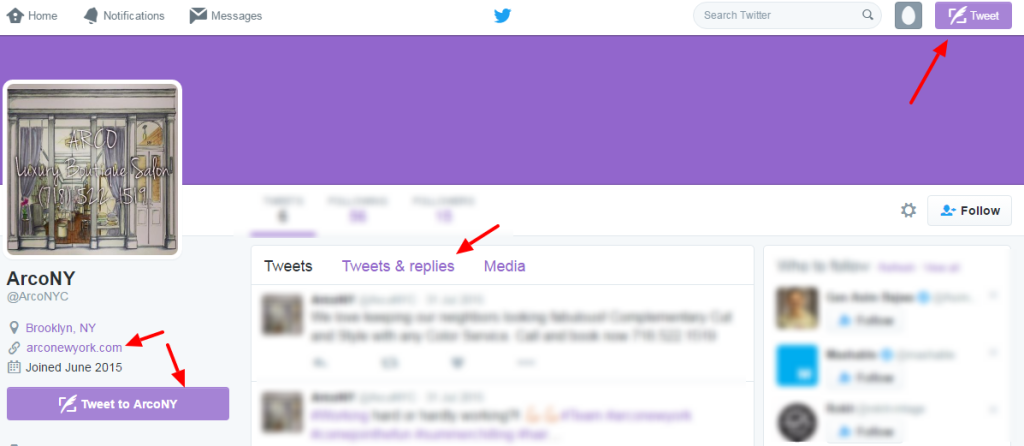 Pinned Tweet:
Another feature many businesses ignore is the option of Pinned Tweet that stays on top of your profile.
While not a part of your profile, the pinned tweet appear above the fold, right in the center of the screen, so you need to make the most of it.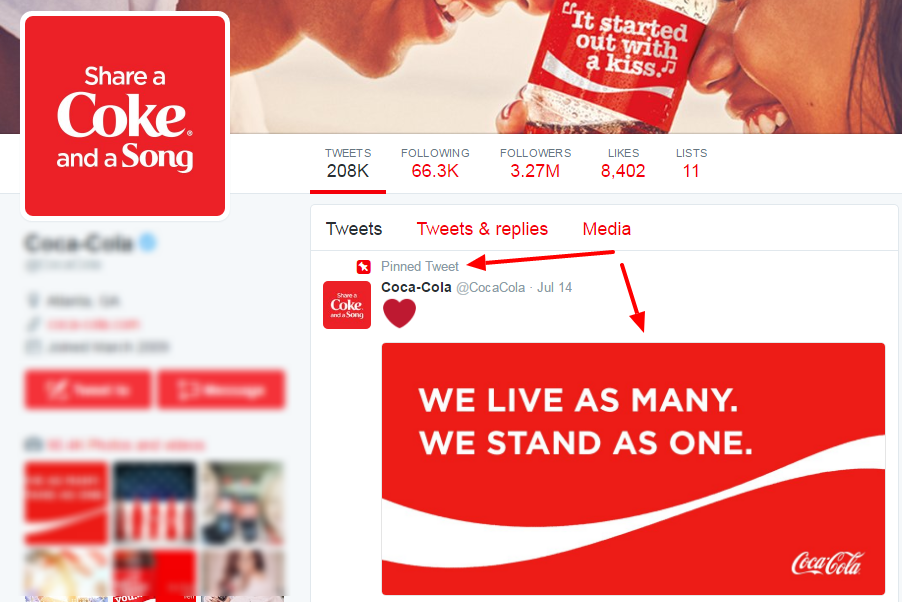 You can Pin tweets about on-going promotions or discounts, a link to your website or products page, some great piece of content, or an announcement related to your business.
Make sure your Pinned Tweet has a high-quality image in it.
Just create a tweet that you'd like to use as Pinned Tweet and choose "Pin to your profile page" from the options.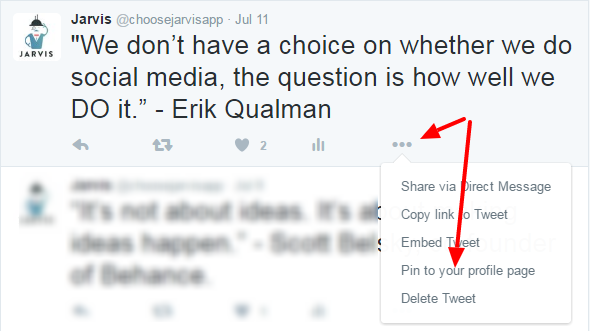 General Guidelines:
Use a work email for your account.
Don't use a password that is similar to the one you are using for your personal accounts because you might have to share the password with your marketing team or social media manager later on
As a small business, you don't need to create difference handles for marketing, hr, or customer support team.
So there you have it.
Your Twitter account is ready and you can start tapping into the world of Twitter.
It's easy, isn't it?