Your Neglected Social Media Profiles are Hurting your Business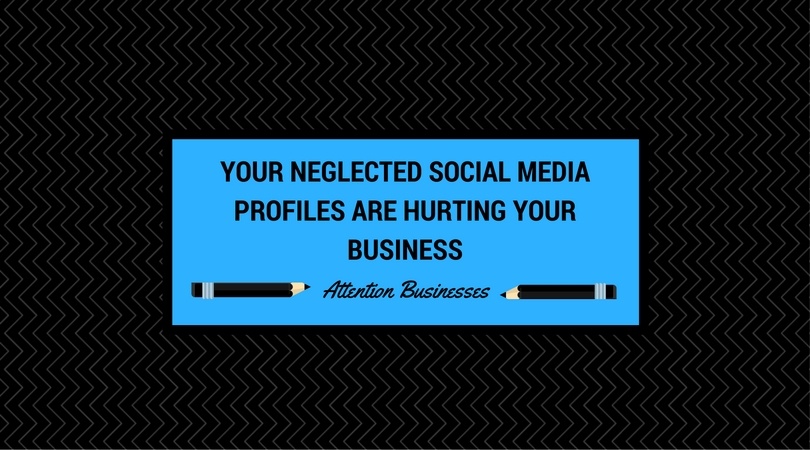 Are you a startup or small business owner?
Do you want to get the word out about your business?
Do you want to increase your sales and find new sales prospects?
Do you want to know more about your target customers? Interact with them, build relationships, and receive feedback?
If you are a business owner or entrepreneur, we can safely assume that the answers to all these questions would be a big "Hell yes".
And yet we see so many small businesses neglecting their social media profiles.
That's jaw-droppingly weird.
I mean how can you not pay attention to your best possible chance of reaching out to your target market without spending a fortune?
It's not negligence. It's a blunder that will hurt your business in more than one ways.
Want to know how big of a cost you are paying for this negligence?
Then continue reading:
You are Missing out on New Sales Prospects:
Most businesses set up accounts at Facebook or Twitter but abandon after some time.
Reason?
They don't seem to be getting any leads or orders on Facebook.
They don't realize that even if they are not getting any direct orders or leads through the platforms, an active social profile can still be contributing to your conversions on the website.
Most customers will take a quick peak on your social profile before making their mind to buy from you.
For example, when someone is looking for computer repair service in New York and they find a local business while searching at Google.
They will be looking at customers' reviews and social profiles to decide if it's good enough or not.

A computer repair business that hasn't updated its Facebook page for more than 6 years is a serious letdown.
Compare it to a business that regularly updates its business page with relevant news, information, or tips, and we have a clear winner.

If you are neglecting your social media profiles, it will be hurting your business without you even knowing. Because it will fend off potential customers.
You are Missing out on a World of opportunities:
A teeth-whitening product distributor took advantage of social media to grow their startup into a $10m business. Even more interesting is the fact that they did it by focusing on Snapchat instead of more commonly used platforms like Facebook or Instagram.
They were looking to target young females so they paid influencers to post interesting stuff that features their teeth-whitening gel.
Social Media is full of such opportunities for businesses who know how to engage their target market.
You cannot identify and take advantage of these opportunities without spending time on social media.
You are not Building Relationships:
80% of sales require at least five follow-up calls after the first contact but 44% of salespeople give up after one follow up. (Source: Hubspot)
You need to build some trust and relationship to convert a potential customer into a long-term client and social media is the best tool to build trust and relationship.
Earlier I've shared an example of how a regularly updated profile will instantly look more credible than a business that doesn't have any social presence.
Share interesting and helpful tips with your target customers and you will soon become a go-to source when they are looking for a product or service that you are selling.
You are not Creating Awareness:
Back in 2008, Cisco was planning to launch a new router.
They decided to take a new route and use social media to launch and promote the new product.
Results?
The company ended up saving more than $100,000 on the product launch.
It was more than 8 years ago and social media has grown even stronger.
Motion picture studios are using social media to build hype and get record openings at the box office.
If you are looking to launch a new product or build awareness about your company, you will not find a better place than social media.
You are not Growing as a professional or entrepreneur:
Social media is not only for businesses.
It's equally good for professionals or entrepreneurs.
Remember it's not what you know, it's who you know and social media is a great place to get to know and network with others.
Here's the story about a teacher who used social media to become a better educator.
Social media can help you become a better entertainer, a better nutritionist, a better car dealer, a better corporate trainer, and a lot more.
Neglect social media at your own peril because you are missing out on more business, opportunities, and sales.