No Bulls*!# Guide to use Facebook for Marketing a Local Business
Facebook has recently announced that there are more than
50 million business pages
on Facebook and these pages get more than 2.5 billion comments every month.
These numbers confirm that an increasing number of small businesses have started to realize the importance.
More and more businesses are using Facebook to connect with their target audience and the customers' response suggest that it's working.
What's in it for local businesses?
According to a recent survey, 68% of consumers said that positive online reviews led them to trust a local business. (Source: Bright Local Consumer Review Survey).
Facebook local business pages allow customers to submit reviews and rate a business.
So, getting positive reviews and ratings will result in more trust and more business opportunities.
Isn't that what you want as a local business?
Can you really afford not to have an active presence on world's biggest social media platform?
What's stopping Local businesses from taking advantage?
Answer: Lack of clear direction.
Most local businesses are not sure about what to do and what not to do on Facebook.
Some hire social media managers only to find someone, with no clue about their target audience or business, posting random stuff to their pages.
Others end up wasting money on useless stuff like buying likes or fancy tools.
So we thought of creating a straightforward, no-nonsense guide for local businesses.
This guide will save you from wasting time and making costly mistakes. We will make sure that your time and resources are spent doing the right things.
Let's get started.
Setting up a Page for Local Businesses
Start from setting up a page for your business.
Make sure that you are choosing the right type i.e. Local business Page.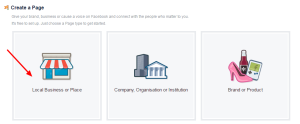 Only local business pages have the option to receive reviews and ratings from customers. You can also add a map, address, and phone number to your local business page.
Make sure that you've submitted all required details in the About section like topics, short description, long description, price range, parking, working hours, phone number, etc.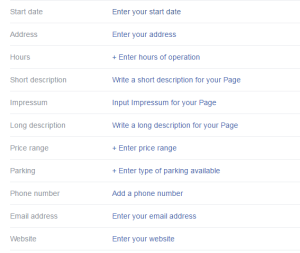 This information is vital because it will help your business appear in search results when someone in your target region is searching.
Make sure that you are using an eye-catching cover photo that highlights your business, products, or services.
Use your business logo as the profile picture.
Do you need an FB group?
The answer is yes – and no.
Creating and managing a group is a good option but it's not a substitute for business page.
Consider setting up a group only if you're ready to spend a lot of time on moderation, maintenance, and community building.
Advertise to Reach out to Local Customers:
Buying Facebook Likes or fans is an absolute waste of money.
The fans will come if you are consistently posting good, helpful content to your Facebook page.
If you want, you can speed up the process by getting your first few followers through Facebook Ads.
The best part is, Facebook allows you to target potential customers in a specific city or town.
Here's how to set up a campaign to get more likes from your target customers.
Click on "Promote Page" button in the sidebar.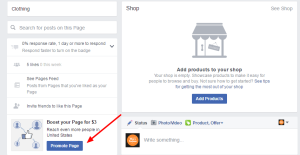 Suppose you are a small business offering rent-a-car service in Escondido.
You can easily target and reach out to people in Escondido.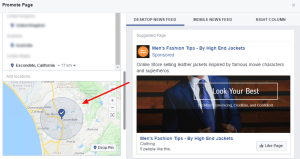 There's an option to increase or decrease the radius, depending on the size and capacity of your business.
Facebook Ads don't cost much. In most cases, it will cost less than $1 per page like.
Having around 500 – 1000 fans from your target location will give you a good foundation to start.
What to Post
It's easy to get the page likes but you will have to work hard to retain these followers and convert them into customers.
To do this, you need to engage these followers with good, helpful content.
Ideally, you should be posting at least once on a daily basis.
Relevance doesn't mean talking only about your products or services. It means keeping your target audience in mind and posting what will be of interest to these users.
For a rent-a-car business, it can be anything from traveling tips to transportation, and car rental guides to places to visit.
Here's what you can post.
Links: Post links to your blog posts, guest posts, or content on another social media website (e.g. posting a link to your LinkedIn article or SlideShare's slide).
Curated Content: Make sure that you are sharing great content from other sources as well. It will help you establish yourself as a credible business or professional who is well read
Discount Codes: Give your fans some incentive by offering special discounts and promo codes. You can also reward them for referrals.
Business Images: Build credibility by posting images from your workplace or your team at work.
Product & Announcements: From time to time, introduce a new product or make announcements like an upcoming sale or event.
Questions & Polls: Interact with your followers by asking questions and inquiring about their likes and dislikes (again, keep it relevant to your business).
For examples of great content and social media marketing, read this post about local businesses who are killing it on social media.
Tools that you can Use
The right tools can help you make the most of your time but you don't need the highly expensive and complex applications intended for large enterprises.
You will definitely need some tools, though.
To begin with, get a tool that allows post scheduling.
Try Jarvis because it has a free plan that allows you to schedule up to 15 posts in a month.
Next, you will need a tool to create visuals and graphics because images are a lot more engaging than simple texts.
Both Canva and Adobe Spark are great options and they are free.
You will also need a content Curation or feed reader so you can discover good, share-worthy content without wasting a lot of time.
Read our post about Top 10 Social Media tools under $10 to find some really cheap or free tools that you can use.
Analytics
Use Facebook Insights to keep track of your progress and get actionable Insights on how to improve.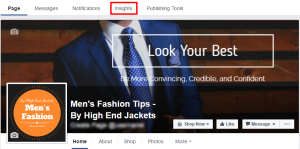 You will get a great deal of information about your overall progress, likes, Reach, Page views, and Actions on Page.
The People section is important because it tells you the location, gender, and language of your fans.
There's a section specifically for local businesses that gives you the all important information like the demographics, peak time, and age group of people near your business.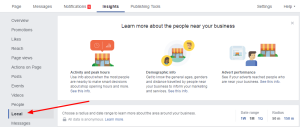 Visit your Analytics at the end of every week or at least twice a month to make sure you are going in the right direction.
Local businesses have a distinct advantage over large enterprises.
They know, and they can engage with the local community better than a big brand.
Local business marketing is all about connecting with your community and Facebook gives you the tool and solutions to do exactly that.