How much does a social media manager cost?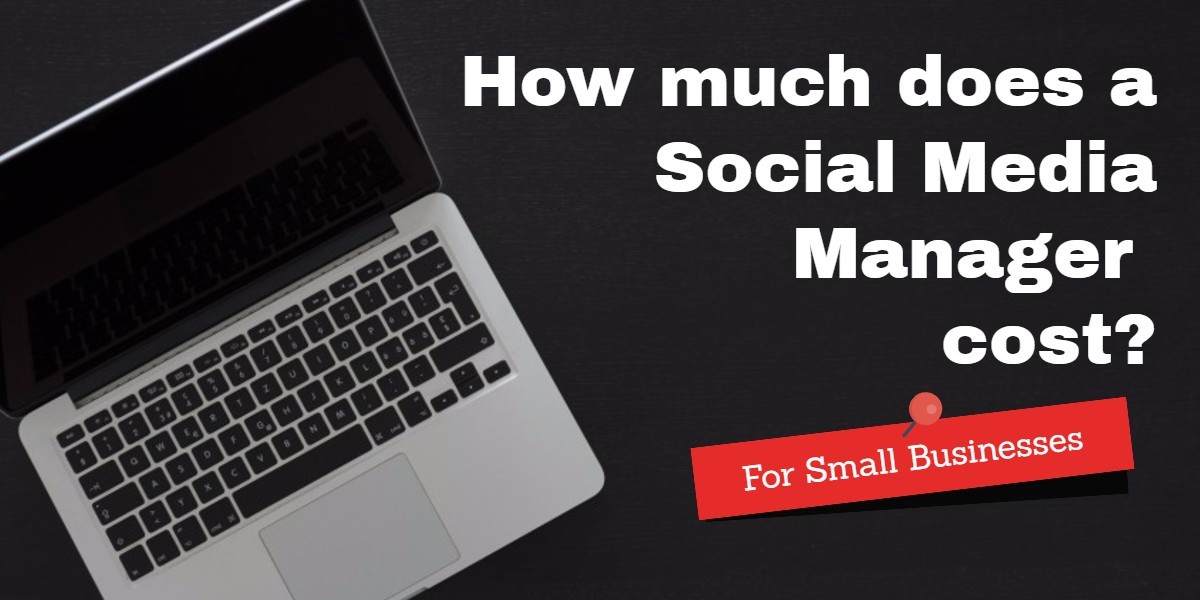 Looking to hire a Social Media manager?
Good for you because Social Media marketing is worth all the time and investment.
You can manage some of your Social Media accounts and post updates through services and apps, but a dedicated Social Media manager can do a lot more.
Social Media manager will monitor different social media platforms to find posts, discussions, and trends related to your brand or business.
They will come up with strategies to engage and interact with your target audience.
They will keep an eye on the progress through analytics to make sure your social media strategy is on track.
However, you need to make sure that you are not handing over your business accounts to someone who doesn't know anything about the scope of Social Media and who's entire strategy is not based on finding random stuff and posting it to your profiles.
What Makes a Good Social Media Manager?
When used smartly, Social Media can produce amazing results for businesses of all sizes.
When used not so smartly, social media marketing can be a waste of time and resources (and sometimes cause massive embarrassments for brands and businesses).
When you are hiring a social media manager, you need to make sure that you are hiring someone who knows how to produce engaging and conversion-oriented content, interact with your target customers, and use analytics to find opportunities.
A good Social Media manager will be able to come up with social media marketing plan while keeping your goals and objectives in mind.
They will know the right platforms.
They will not be obsessed with vanity metrics like the number of followers or Likes. Instead, he'll be looking to create content that engages your target audience and converts them into customers.
They'll know the right tools to make the most of their time
Last but not the least, good social media managers will have the experience of setting up, monitoring and optimizing Social Media advertising campaigns.
In short, you are looking for someone who is good at content creation, curation, analytics, communication, and PPC at the same time.
Someone who comes with this kind of skill set and expertise is not going to work for peanuts.
Before trying to get an idea of how much a good social media manager costs, let's see how many hours do you need to manage social media for a small business.
Ideally, Social Media marketing and management needs to be a full-time job.
Posting updates, replying to visitors messages and tweets, scanning social media for relevant posts or discussions, creating new content and coming up with ideas, going through competitors' accounts, doing the outreach, and following up can take an entire day's work. But that's for fairly large businesses.
Small or Local businesses have a relatively small audience so we can safely assume that 3 – 4 hours a day are going to be enough.
The below-mentioned costs are created while keeping that time in mind.
How Much a Freelance Social Media Manager Costs?
Let's start from Upwork, which is one of the biggest freelance jobs portals.
We searched for Social Media Managers and here's what we get.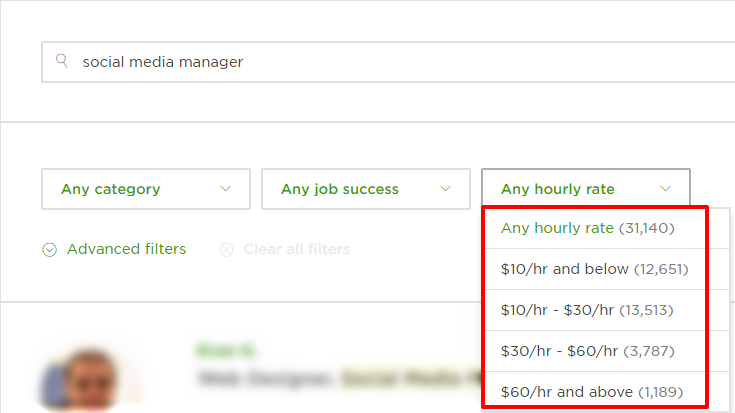 A total of more than 31k freelancers with the following price ranges.
More than 12k freelancers are charging well under $10/hour
Around 13k are charging rates between $10/hour to $30/hour
There are more than 3.5k who will work at $30/hour to $60/hour
And then there's the most expensive category charging at least $60/hour or more
We filtered the results to get the freelancers with at least 100 hours billed.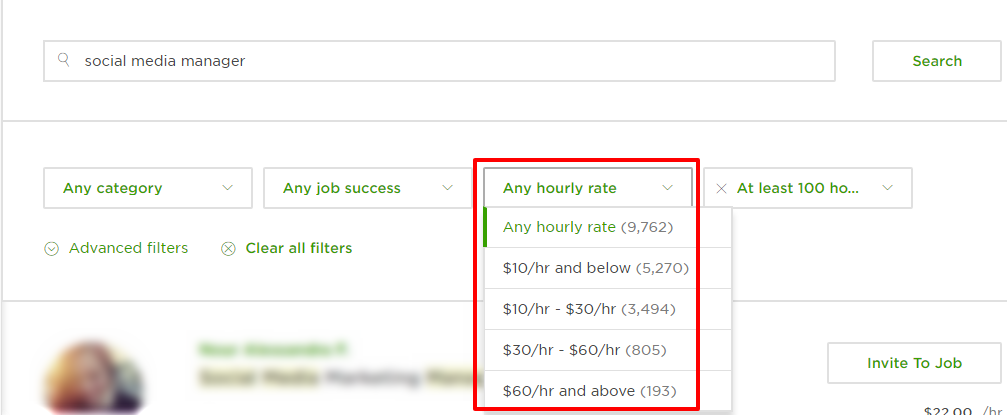 As you can see, we are getting pretty much the same results.
Around 8700 freelancers out of 9700 are charging $10/hr to $30/hr.
Let's use another filter to find the ones with the highest job success rate.

As expected, that takes out a big majority of freelancers offering a rate below $10/hr.
Still, more than 80% of these freelancers fall into "$10 or below" and "$10/hr – $30/hr" categories.
While quickly going through the top-rated freelancers, we can see that most of them are charging at least $20/hr or more.
According to these rates, a decent quality social media manager for your small business will cost anything from $1000 to $2500 per month.
The range is quite similar on other platforms like Guru or PeoplePerHour.

How Much an In-House Social Media Manager Costs?
To get an idea of the cost for an in-house social media manager, let's look at PayScale that allows you to research and compare average salaries in different fields and professions.
According to PayScale, social media managers in the US earns $46k per year on average. The salaries range between $27k and $73k.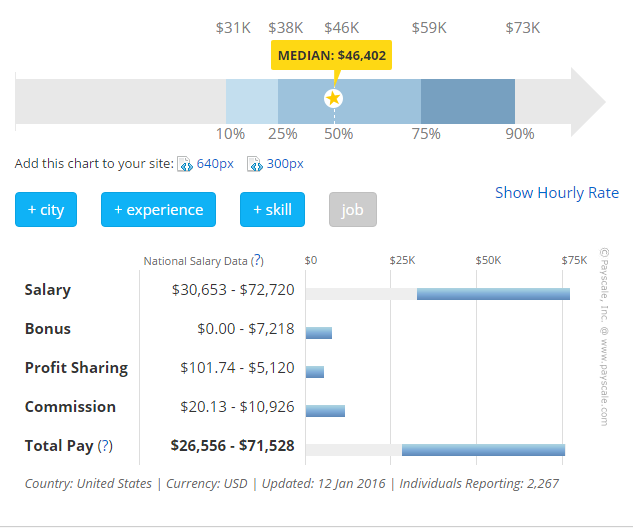 Source: PayScale
It actually conforms to our earlier estimate i.e. $1000 to $2500 per month (remember we were calculating the cost for just 3 hours or half a day's work).
Looking at "Social Media" marketing jobs at LinkedIn, we can see that the average salary ranges from $40k/year to as much as $200k/year but these are estimated figures coming from the same source i.e. PayScale.
Estimated salary for "Social Media Manager" jobs at Indeed range from $35k to $80k.

Looking at all these figures, we can come up with a fairly accurate estimate of the cost though your actual cost will differ depending on your goals and objectives.
Remember that someone working at a relatively low rate of $1000/month or less will only be able to do the basic stuff like content curation, responding to direct messages or mentions, and coming up with monthly reports.
You cannot expect the advanced stuff like conversion oriented campaign, influencer outreach, measuring and establishing the ROI of different campaigns or social listening.
Conclusion:
It's your call and it's your money but in case you are just starting and looking for a way to maintain a social media presence, you will be better off using a tool than hiring a social media manager.
Go for a dedicated Social Media manager only when you are looking to take it to the next level.