how to increase analytics of social media
This is not a complex, statistical study but a basis to understand the types of content that work on Inbound.
We've analyzed everything with 100 or more votes at Inbound.org to get an idea of the topics that get the most attention and upvotes.
Content that works at Inbound.org will most likely click with your target audience as well.
This analysis will be of great help for anybody looking for topics to woo the B2B audience.
Existing work on the topic?
We've tried searching for posts on similar topics but I found just a couple.
This one barely scratches the surface.
It makes some valid points like the length or the person submitting the posts matters but most of these findings are not practical or makes much sense.
For example, the posts submitted in the month of January will do well or title length is everything.
There's another analysis but with similar results though it mentions that AMA and Google related topics get the most views.
We are more interested in the real thing i.e. content type and topics that work.
If you are an inbound marketer, knowing your target audience and the topics that grab their attention can make your life easier.
When you go through the most popular posts, you will see that certain topics are doing better than the others.
A big majority of these posts are How To's and all-inclusive guides. Case studies and success stories are not far behind, while some posts have worked simply because of the shock value or controversy in the topic.
We went through the posts one by one and marked the biggest contributing factors.

It's our personal opinions but you can do your own marking and we are sure that the overall results will not differ a lot.
We'd love to hear your take on the results.
But before we go into that, let's look at some factors which are constant in almost all of these posts.
The Constants:
Simply choosing a controversial topic or carrying out a quick case study is not enough.
It will get you some clicks or eyeballs but no upvotes (or likes and shares).
Give no value and you will Get no value out of your post.
It's important to pick the right topic but make sure your posts have all the necessary ingredients.
Quality & Writing Style:
You will need above average writing skills to engage and impress professionals.
At the same time, you need to keep it casual and easy to read.
Use short sentences and informal language.
Comprehensiveness:
Most of these posts are at least 2000 words or more.
People are more likely to vote when they see the effort behind it.
Length matters but it's not about the word count.
Strive to be the best possible resource on the topic.
Hitting the right nerves
Content marketing is all about keeping your finger on the pulse of your target audience.
Posts like "We're ignoring Google and it is working" or "How to get an Influencer to write for you" have worked so well because the audience can resonate with the topics.
Don't waste time on creating the ultimate guides or case studies if it doesn't address a common pain point.
It helps to be well connected:
I can't emphasize enough the importance of a strong network.
It can be the difference between a celebrity and a wannabe.
Take this post as an example.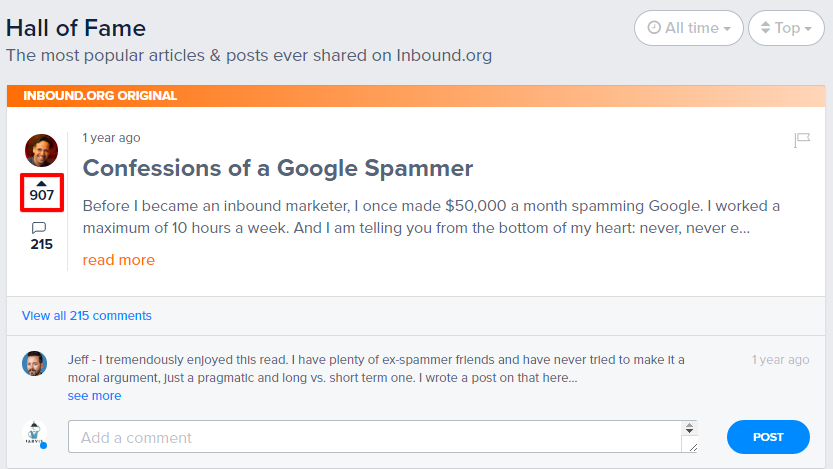 Look at all those votes and remember no other post has crossed the 700 mark yet.
But here's something really interesting:
The post has barely managed 37 votes and was on its way to obscurity until it got the mentions from influencers like Rand Fishkin, Dharmesh Shah, even Matt Cutts.
Every connection matters.
If your post can get those early votes or comments, it will be featured in "Content suggestions".
It's something members get when they log in (depending on their interests).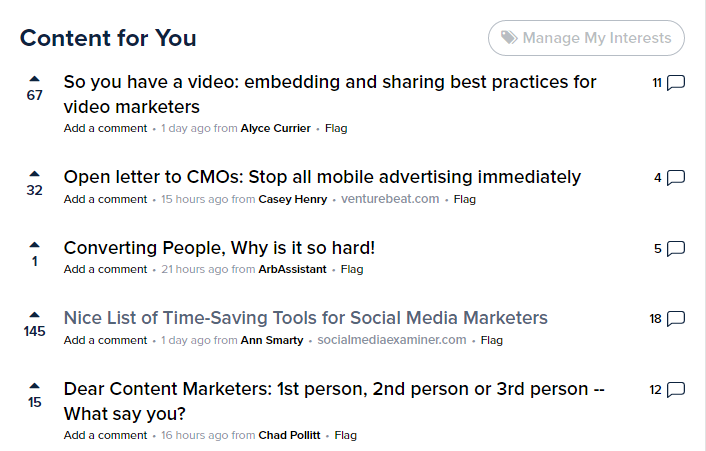 Even better, it will make its way to the newsletter, which means massive exposure.

Karma:
Don't try to achieve this traction by getting your team members or friends to vote because it can backfire.
What you give is what you get.
Try to be a generous part of the community and let Karma do its thing.
If you're leaving quality response on other people's posts and questions, they are more likely to vote when they see something posted by you.
And now, let's get down to business and see which content type or format has found the most success at Inbound.
Content Types:
Posts with Controversial Topics & Shock Value (4.8%)
I Stopped Selling SEO Today. You Should Too. Here's Why…
We're Ignoring Google & It's Working – Here's Why
The easiest way to get everybody's attention is saying something that goes against the popular beliefs.
Internet trolls use this trick all the time at discussion boards and it seems to work on Inbound as well (not the trolling part but taking a different stance).
A great example is the recent case study "On Page SEO is Dead – We Studied 2M search queries to learn that".
Now, the study only marginally proves that On Page Factors play a much smaller role as compared to backlinks.
It's an established fact but the controversial topic has worked due to the shock value.

The post has 144 votes and a lot of views in less than 24 hours of posting.
You don't need to troll or purposely try to upset people but there's nothing wrong with voicing your opinion especially if it goes against a norm.
If you can back it with some data or solid proof, it's going to be the icing on the cake.
Case Studies & Success Stories (13.4%)
We Analyzed the HTTPS Settings of 10,000 Domains and how it Affects Their SEO – Here's What We Learned
We Analyzed 37,259 Facebook Ads and Here's What We Learned For YOU
Case studies and success stories work so well with B2B audience for obvious reasons.
Online Marketing industry is so full of hearsay. Every time we see a data-backed answer, we are naturally attracted.
Besides, who'd mind learning a lesson or two on someone else's expense?
The case studies like "How to Not Blow $10,000 on Google Adwords" or "Four Lessons from Creating over $20,000 Worth of Slide-Share Presentations".
If you can't spend such huge amount, put in the time and effort and it will get the similar results.
Success stories work because everybody wants to see and replicate a successful strategy.
For example "How an E-commerce Store generated $18,750 In Sales From $114 Facebook Marketing, In 48 Hours" or "Content Promotion: How We Grew from 0 to 32,977 Users in 5 Months With Zero Paid Traffic".
Out of the Box Approach & Stand-out Titles (10.8%)
Finding Your Voice Through Your "Sh*tty First Draft"
Expert Roundups Must Die Since SEOs Can't Have Nice Things
It's next to impossible to come up with new topics on a constant basis.
How do you manage to create something unique?
The trick is to use a distinctive title and format.
For example, this post titled "So you want to start an agency – LOL" actually shares standard tips for startups.
It's a good post but the idea has been reincarnated so many times. It wouldn't have worked if it wasn't for this unique title.
Thanks to the title, the post has more than 59k views while most others don't manage even 50% of these.

That tells you something about the power of a good title.
And it's not just the title.
Joel K. used an over the top strategy to get paid and shared it in "Ho Ho Ho … Pay my Invoice".
At times, a little bit of humor or sarcasm is all you need.
For example, "How I earned 1,859 Twitter Followers in only 8 Years".
How To & Guides (22.9%)
How to Get an Influencer to Write for You
The Ultimate Guide to Guest Blogging: 250+ Opportunities
How to Improve Title Tag CTR by 20%+
Guides and How-to posts are one of the most recurring types in the list of most popular posts.
These posts work because they take a pain point and solve it for once and all.
For "How to" posts you must choose a burning question and strive to be the best possible answer.
The "ultimate guides" need to be the most comprehensive resource on the subject.
Lists & Compilations (10.1%)
19 Strategies to Acquire Links and Drive Traffic (Oh, and EXACTLY How to Execute Them)
21 SEO Techniques You Can Use Today to Get More Search Engine Traffic
31 Brilliant Landing Page Examples (With 71 Takeaways)
List posts are probably the easiest type to pull off.
Numbers grab people's attention and you can easily get your point across.
However, you need to choose your topics carefully.
Successful list posts at Inbound.org are mainly on advanced topics like "21 User Activation Tactics" or the extensive ones like "123 Ways to Get More Website Traffic: A Sumo-Sized Guide".
AMA Sessions (14.9%)
I Am Rand Fishkin, SEOmoz Founder/CEO, Ask Me Anything
We are Conversion Rate Optimization Experts. Ask Us Anything.
I am Noah Kagan, #30 at Facebook, #4 at Mint. Chief Sumo of AppSumo.com. Ask me anything.
Ask Me Anything (AMA) sessions work for two reasons.
First, they are heavily promoted, and second, when you have the guys like Brian Dean or Avinash Kaushik willing to answer your questions, people will naturally jump on the opportunity.
It seems Inbound is not accepting requests to appear as a volunteer in these sessions.
But you can consider hosting one on another platform (or host one on your own blog or social media page).
Questions & Discussions (13.1%)
What's your content ideation process?
How long does it take you to write an in-depth article (1500+ words)?
What is one growth hack you used to increase blog organic traffic?
Inbound is an active community and every so often there's a discussion where everyone wants to share an opinion.
You can also initiate discussions to get some attention (and Karma points). Just try to keep it relevant to your industry.
Misc (10.1%)
Goodbye Inbound.org
Welcome to Inbound- New Members Introduce Yourselves Here! April 2015
Welcome Mary Green – our new Content & Community Manager!
These are mostly community-related posts that you cannot use in your strategy.
Conclusion:
Choosing the right topic is the first (and the most important) step towards creating content that connects with your audience.
It's easier than you think.
Start from adapting one of these popular types to suit your niche and target audience.
For best results, combine more than one factor into a single post.
For example, create a detailed guide and then choose a stand-out title instead of the clichéd ones like "the ultimate guide" or the "complete guide".
Pretty soon you'll have it figured out ?